How can we help?
Observed Holidays (Customer Service will be closed)
| | |
| --- | --- |
| Holidays | Dates |
| New Years Day | 1/2/2023 |
| Independence Day | 7/4/2023 |
| Thanksgiving Day | 11/23/2023 |
| Christmas Eve Day | 12/24/2023 |
| Christmas Day | 12/25/2023 |
Durango® Boots Limited Warranty
Rocky Brands, Inc. ("Rocky") offers a 1-year limited warranty to the original end-user purchaser for all Durango® Boots-branded products ("Product(s)") in normal use against any manufacturing flaw(s), defective materials and workmanship.
This warranty also covers Gore-Tex® bootie liners against leakage for 1 year. All boots with Durango® waterproof construction are guaranteed waterproof for 6 months from date of purchase.
All warranty periods begin on the date of purchase. For purchasers in California, the warranty period begins on the date of purchase or the date of delivery of the Product (whichever is later). In the event of a defect, Rocky will replace the Product. If a Product has been discontinued and replacement is not possible, Rocky will provide an alternate replacement Product that is, in Rocky's discretion, of equivalent value.
Because Rocky cannot control the quality of Products sold by unauthorized sellers, this warranty applies only to Products that were purchased from Rocky or a Rocky authorized seller in the United States, unless otherwise prohibited by law. Rocky reserves the right to reject warranty claims for Products purchased from unauthorized sellers, including unauthorized Internet sites. This warranty does not cover damage due to: normal wear and tear, neglect or failure to adequately maintain and store the Product, holes worn in toes, burn marks, punctures, cuts, and abrasions from outside causes, alteration to the Product, repairs or modifications not performed by Rocky, inadequate or improper fit, accident, misuse and/or abuse by the wearer, act of God, fire or other hazard, tampering, or improper shipping and handling.
This warranty may be void if the user applies any materials not recommended, such as polishes, oils, or other chemicals or foreign substances that result in damage to the materials of the Product.
To make a warranty claim, please return the Product to the authorized seller from whom it was purchased. We expect our authorized sellers to handle and accept warranty claims in accordance with this warranty. If the Product was purchased directly from Rocky or if you are unable to resolve your claim with the authorized seller from whom the Product was purchased, please contact 1-866-442-4908 to make a warranty claim and obtain your return authorization number.
You will be asked to provide proof of purchase and to return your Product to the authorized seller or to Rocky. Costs of shipping the Product to Rocky will be covered by Rocky. Costs of shipping the Product to an authorized seller will be handled in accordance with the authorized seller's return policy and may be the responsibility of the purchaser.
There are no warranties, express or implied, which extend beyond those stated herein. ANY IMPLIED WARRANTIES THAT MAY BE APPLICABLE TO PRODUCTS, INCLUDING IMPLIED WARRANTIES OF MERCHANTABILITY OR FITNESS FOR A PARTICULAR PURPOSE, ARE LIMITED IN DURATION TO THE DURATION OF THIS WARRANTY. UNDER NO CIRCUMSTANCES SHALL ROCKY BE LIABLE FOR ANY OTHER LIABILITY OR OBLIGATION, INCLUDING WITHOUT LIMITATION ANY LIABILITY OR OBLIGATION FOR DAMAGE, LOSS, OR INJURY (WHETHER DIRECT, INDIRECT, EXEMPLARY, SPECIAL, CONSEQUENTIAL, OR INCIDENTAL) ARISING OUT OF OR IN CONNECTION WITH THE DELIVERY, USE, OR PERFORMANCE OF THE PRODUCT, BREACH OF THIS LIMITED WARRANTY, BREACH OF CONTRACT, OR STRICT LIABILITY. FOR THE AVOIDANCE OF DOUBT, IN NO EVENT WILL ROCKY'S AGGREGATE LIABILITY EXCEED THE PRICE PAID BY THE CUSTOMER FOR THE PRODUCT IN QUESTION. NO EXTENSION OF THIS WARRANTY WILL BE BINDING UPON ROCKY UNLESS SET FORTH IN WRITING AND SIGNED BY A ROCKY AUTHORIZED REPRESENTATIVE.
Some States do not allow limitations on how long an implied warranty lasts or the exclusion or limitation of incidental or consequential damages, so the above limitations or exclusion may not apply to you.
This warranty gives you specific legal rights, and you may also have other rights which vary from State to State.
If you have any questions regarding whether a particular seller is an authorized seller, please contact us at 1-866-442-4908.
Returns
If you are not completely satisfied with your purchase, you may return unworn merchandise within 30 days of receipt for a prompt refund. The 30-day period starts from the date your package was delivered. You will need the order number and billing zip code of the order you are making a return for. This can be located in the confirmation email you received when placing your order.
EXTENDED HOLIDAY RETURN POLICY: Purchases made between November 1st and December 24th are eligible for return through January 31st 2023
Create a Return
Payment Methods
Durango® Boots accepts payment for with the following major credit cards:
For your shopping convenience, Durango® Boots also accepts secure online payments using:
Break your purchase into smaller chunks. 4 interest-free installments with
Shipping Methods
We understand that getting your items quickly is important to you, so we make every effort to process your order quickly. When you order online you can expect your order to ship within 1-2 business days!
Free Shipping
We offer Free Delivery on orders $75+ shipping within the contiguous US.
Order being shipped to AK or HI do not qualify for the standard free shipping offer. The options for shipping to those regions are USPS at a flat fee of $15 per pair/item or FedEx 2-day at a flat fee of $35 per pair/item.
Expedited delivery service is available for select web orders and applies to those orders placed during regular business days between before 2PM EST. Orders placed outside of this time frame will be processed the next business day.
Note: Business Days do not include weekends or holidays.
FedEx Hold at Location
We now offer FedEx HAL for contiguous U.S. orders for our customers who would like to have their shipments held at an authorized FedEx Hold Location. You may select this option at checkout.
Shopping Our Site
Once you have confirmed your order, you will receive two e-mails:
Order Confirmation Email:
The first e-mail will be sent immediately to the e-mail address you provided during checkout, to confirm the order. This e-mail will contain your order number. You will need this number to track your order online or to make a return or exchange at a later date.


Shipment Notification Email:
The second e-mail will be sent once the order has been processed and shipped from our distribution center. This e-mail will contain the FedEx tracking number for your purchase.
Cancellations:
At times we discover that an item you have ordered may not be available due to a quality defect or out of stock scenario and we must cancel all or a portion of your order. If that happens, we will notify you via the contact information you provided to us. Please note, this is a rare occurrence, but it does happen, and we will do our best to work with you to either issue a refund or send you a substitute item.
All orders are subject to bank authorization prior to processing. Your credit card will be billed once the order has been processed and shipped from our distribution center.
Frequently Asked Questions
Are Online Returns Free?
Absolutely! We understand buying prior to trying something on can be a hesitation; thats why we offer Free Returns on all USA orders!
NOTE: Original shipping fees are not eligible for refunds or reimbursements.
Can I return my boots without a Return Authorization Number (RMA)?
No. For security reasons, returns without a Return Authorization Number will be refused and returned to the sender.
How do I get a Return Authorization number to return my boots?
To request a Return Authorization your product must be within warranty and have proof of purchase. If your purchase originated through an authorized Rocky Brands Dealer, you must return your product to the place of purchase. If you purchased through one of our websites please use our online return process.
Is it safe to use my credit card on your website?
All of Rocky Brands sites are backed with sophisticated technologies that allow your personal and credit card information to flow through our site in a secure and protected method. Additionally, we have processes in place that block and shut down fraud orders.
Is it safe to use my debit card online?
Yes. And please note: If you choose to pay by debit card, the amount you charge will be put on "hold", meaning it will not be available to you once you place your order. Once your transaction is processed, the amount of the transaction will be withdrawn from your account and the original "hold" will be voided.
Does Rocky Brands charge sales tax?
We value our customers at Rocky Brands and we make every effort to calculate sales taxes on your internet purchases correctly. Your purchase is not exempt merely because it is made over the Internet or by other remote means. We calculate and collect sales taxes, based upon rates obtained from our third party sales tax rate provider, and applicable to your purchases ship-to address; in states which we have a physical presence. If you feel that we have calculated the sales taxes on your order incorrectly, please contact our customer service department so that we may bill you accordingly.
Should I receive an order confirmation email after my order has been placed?
Yes, you should. If you do not receive a confirmation in your email inbox please check your "Junk, Spam or Deleted" Folder. Please check these folders, prior to contacting our Customer Service Department.
How long do waterproof boots remain waterproof?
Gore-Tex booty liners are against leakage for 1 year. All other waterproof construction is guaranteed to be leak proof for 6 months from the date of purchase. After this time, it is recommended that you apply an additional layer of Silicone Water Proofing spray about every 6 months.
Can Rocky Brands repair my boots?
No. Rocky Brands no longer offers resoling or any other repairs on our products. If your boots are within out 1 year manufacturing and material defect warranty, please see the returns/warranty section.
What is Proposition 65?
Proposition 65 is the California Safe Drinking Water and Toxic Enforcement Act of 1986 Health and Safety Code Section 25249.6 et al. Any company that , sells or manufactures consumer products in California, is subject to Proposition 65. Because Report Footwear sells products in California, Report Footwear is subject to Proposition 65.
Proposition 65 requires warning labels on any consumer product that may contain any of 800-plus chemicals that the State of California considers a carcinogen or a reproductive toxicant. For many chemicals there is no definable amount of how much of these chemicals must be present to be considered harmful. In some instances, the State of California has set threshold levels of certain chemicals to be safe but in general the burden is on a manufacturer or seller to prove that exposure of those chemicals in their product pose no harm to the consumer.
Why does Rocky Brands put Proposition 65 warning labels on products sold outside of California?
Through Rocky Brands sales online, and other dealers within California, our products are available to be shipped and/or purchased in California. If our products are brought into California without the proper warning lable, Rocky Brands may still be in violation.
Why do I not see this warning on everything I buy?
This is a California State Law and not a Federal Law. Companies that do not sell consumer products in California do not need to put this warning on their products.
Are Rocky Brands Products Safe?
Our products are manufactured to meet federal and state laws for safety and restricted substances.
What outer packaging does Durango® use?
The outer packaging we use to ship your order depends on whether it's 1, 2 or more units as well as the shipping method. Often, orders with 1-2 units will ship in clear shrink wrap. While some order will ship in a more traditional brown cardboard box.
Will Durango® match the price of a product I found at another online retailer or in store?
No. We are not able to price match via our website or in our company owned retail stores. Sometimes if a price is too good to be true it may very well not be. To be sure you are buying the genuine article, shop securely on this website or via one of our authorized resellers who can be located here.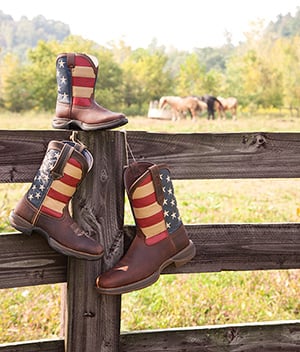 Contact Us
We're here to assist you further! If you have any additional questions or need personalized assistance, please don't hesitate to reach out to us. Our dedicated team is ready to provide the support you need. Click the "Contact Us" link below to access our convenient contact form. We value your feedback and look forward to helping you in any way we can.